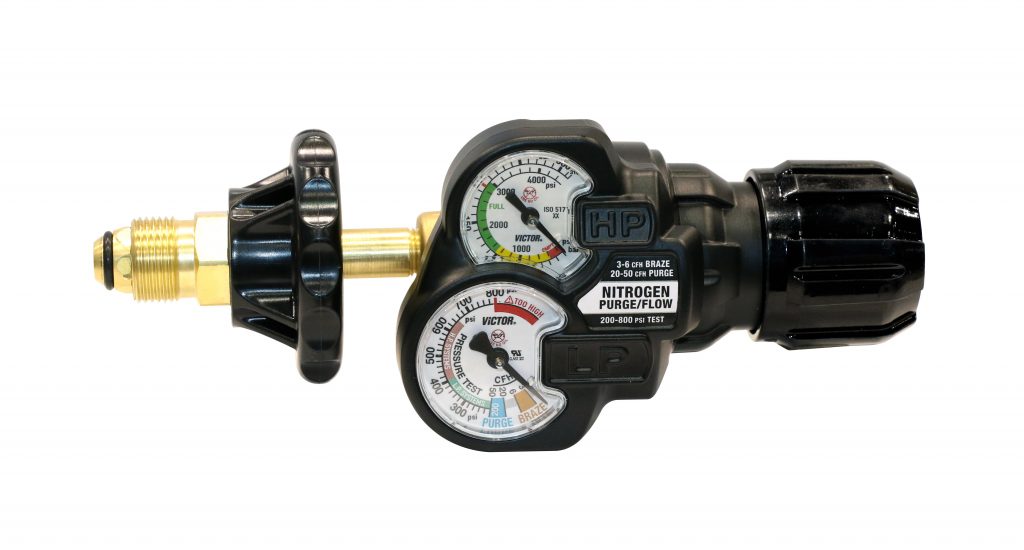 T
Annapolis Junction, M.D. – TurboTorch®, an ESAB brand, will offer hands-on demonstrations of its full line of premium quality brazing and soldering products in booth C7223 at the 2019 AHR Expo, Georgia World Congress Center, Atlanta, January 14 – 16. Products include outfits, torches and handles, consumables, regulators and accessories for air-fuel, oxy-fuel and MAP-Pro/LP gas, as well as welding and cutting equipment.
Booth visitors can enter a daily drawing for a Sentinel™ A50 welding helmet and a grand prize drawing of a Victor® G150-J-CPT oxy-fuel portable tote outfit.
Unique Regulator
Featured demonstrations include the Victor EDGE™ 2.0 ESS32 PFH800 pressure/flow hybrid regulator, which combines flow and pressure regulation functions in a single device to provide adjustability for using nitrogen as a backing gas, for purge applications and to conduct pressure tests. As part of its Iron Clad Pledge, ESAB covers the EDGE 2.0 ESS32 PFH800 and all Victor EDGE 2.0 Series regulators with a Lifetime Warranty, as well as with ESAB's 100% satisfaction guarantee.
The Air-Fuel Standard
Burning up to 40% hotter than competitive air-fuel torches, TurboTorch's Extreme™ line of self-lighting and standard torch tips create a "wrap around" flame effect that heats pipe more evenly and quickly. The company's Extreme™ air-swirl torches, available in standard and self-lighting models for acetylene and MAP-Pro™/LP gases, are the preferred choice of contractors and do-it-yourselfers.
"TurboTorch Extreme air-acetylene torches set the highest industry standards for performance, reliability, durability and safety," says Paul Eckhoff, Director, Product Line Management, ESAB. "Other products available on hand include ESAB All-State® brazes, solders and fluxes, Thermal Dynamics® plasma cutters and ESAB's Rebel™ multi-process, multi-voltage welder."
ESAB Welding & Cutting Products, established in 1904, is a recognized leader in the welding and cutting industry. From time-honored processes in welding and cutting to revolutionary technologies in mechanized cutting and automation, ESAB's welding filler metals, equipment, and accessories bring solutions to customers around the globe.
For more information about ESAB and its leading brands, visit www.esab.com or call 1-800-ESAB-123.