ATLANTA– Rheem was recently named a National Preferred Partner by David Weekley Homes, one of the nation's largest privately-held home builders. In its 16th year, the annual distinction recognizes manufacturing and field partners that have consistently...
by Jim Hinshaw Here is an interesting concept, people make almost instant decisions about you when they first see you, one study says they make 11 decisions in 7 seconds, another said that they decide if they can trust you in 50 milliseconds!  If that is the case, we...
read more
As you know, a large portion of the Coburn's footprint was in the path of Hurricane Laura.  The storm cut a path directly through the state of Louisiana, beginning in Lake Charles and going all the way north to Shreveport, as well as west to East Texas. Many have...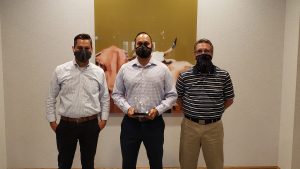 At the Insco/Mitsubishi quarterly meeting, Insco was recognized as the Crowning Achievement Award recipient for 2019. This award is based upon outstanding growth year over year. Insco could not do it without the amazing support and passion of the...