COLUMBUS, Ohio– Heating, Air-conditioning & Refrigeration Distributors International (HARDI) released its monthly TRENDS report, showing average sales for HARDI distributor members increased by 0.2 percent in March 2018.  The average annualized growth for the 12...
by Lorraine Ball When you started your business, you probably assumed you were creating a product which people would like. If they didn't, you wouldn't have much success. But people have different tastes, preferences, and needs. So if you are really honest, you know...
read more
Bosch calls on HVAC Industry to share its pride with #WeAreHVAC   WATERTOWN, Mass.  – Bosch Thermotechnology Corp., manufacturer of high-quality heating, cooling and hot water systems, is proud to be a part of the HVAC industry and knows others are, too. To highlight...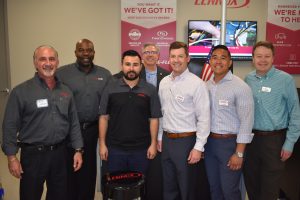 Lennox held a Grand Opening at their new store location at 1080 S Kimball Avenue in Southlake Texas on May 10th. The lunchtime event had food, a vendor fair and prizes for all who attended.