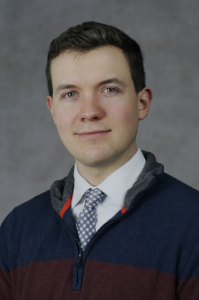 Arlington, VA – The Air Conditioning Contractors of America (ACCA) is proud to announce and welcome Chris Czarnecki as ACCA's Government Relations Representative & Coalitions Manager.
As Government Relations Representative & Coalitions Manager, Czarnecki is responsible for representing ACCA on Capitol Hill. His main priorities are, building federal solutions for workforce development issues, and working with the Education and Labor Committee, Department of Education, and other agencies that can have a positive impact on careers in the skilled trades. Additionally, Czarnecki is accountable for managing ACCA's memberships and relationships with the Family Business Coalition, National Association of State Energy Officials, the National Governors' Association, National Association of Regulatory Utility Commissioners, and other relevant groups that can help advance ACCA's policy goals. He will be handling policy issues that relate to education, workforce development, healthcare, regulatory reform, and infrastructure.
"I look forward to helping to increase ACCA's presence on Capitol Hill, as well as contributing to ACCA Members' growth and success," says Czarnecki.
Before joining ACCA, Czarnecki worked for Congressman Sensenbrenner's (R-WI) office and for former Speaker of the House Paul Ryan (R-WI). As a legislative correspondent, Czarnecki was responsible for managing advocacy correspondence, constituent surveys, and the congressional internship program. He also managed campaign finance issues, political affairs, and supported senior staff, overseeing the education and energy portfolios."
"We are excited to have Chris join ACCA's growing government relations team. His knowledge of Capitol Hill and the inner workings of government will be instrumental as he builds upon ACCA's strong presence in Washington, D.C.," says Todd Washam, ACCA vice president of public policy & industry relations. 'We are thrilled to have a dedicated member of our team focused on helping address ACCA members' top priority – workforce development issues. Chris is passionate about working with members of Congress and the Trump Administration, and providing more support for apprenticeship programs, career and technical education, and other workforce programs which are critical with gathering support for careers in the skilled trades."
To view ACCA's updated staff organization directory, visit https://www.acca.org/about-acca/staff.
For more information, please contact Deb Weiner, ACCA Manager of Communications and Strategic Partnerships at deb.weiner@acca.org or 703-824-8862.