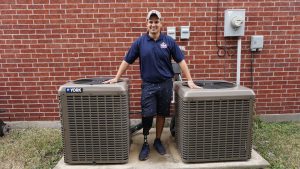 Houston-based contractor and Johnson Controls work together for Building Homes for Heroes home dedication
On February 17, Aire-Technics joined local contractors and Building Homes for Heroes at a Welcome Home ceremony in Houston, TX for Army Specialist Michael Villagran. Johnson Controls donated a YORK ® heating and cooling system and Aire-Technics provided installation services for the veteran's new home.
"The support of companies like Johnson Controls and its high-quality YORK heating equipment and contractors like Aire-Technics enable our organization to reach more injured veterans in need and help them begin to rebuild their lives," said Chad Gottlieb, director of construction development, Building Homes for Heroes.
Building Homes for Heroes is a national organization that recognizes the tremendous sacrifices of men and women of the United States Armed Forces by supporting the needs of severely wounded or disabled soldiers and their families. The organization strives to build or renovate quality homes and gift the homes to severely injured veterans nationwide, mortgage free.
"Teaming up with Building Homes for Heroes gives us an opportunity to give something back to real heroes who have made sacrifices for our country. We're honored to contribute our services to the home of Army Specialist Micheal Villagran and his family," said Frank Howard, project manager, Aire-Technics.
Building Homes for Heroes invites anyone wishing to volunteer or make a donation to the organization to contact Building Homes for Heroes at info@buildinghomesforheroes.org