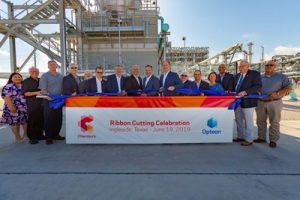 World's Largest HFO-1234yf Production Facility Triples Company's Capacity of Opteon™ YF
CORPUS CHRISTI, Texas— The Chemours Company (Chemours) (NYSE: CC), a global chemistry company with leading market positions in fluoroproducts, titanium technologies, and chemical solutions, today formally inaugurated its new Opteon™ production facility near Corpus Christi in Ingleside, Texas.
The $300 Million production facility will triple Chemours' capacity of Opteon™ YF, a hydrofluoro olefin (HFO)-based refrigerant, now used in millions of vehicles and thousands of retail stores around the world. When used in automotive air conditioning, Opteon™ YF has a Global Warming Potential (GWP) that is 99.9% lower than the legacy refrigerant it replaces, helping to reduce greenhouse gases and taking a significant step toward meeting environmental global-warming regulations around the world.
Chemours and its predecessor companies have been manufacturing refrigerants in the Coastal Bend since 1972. Including the new Opteon™ YF production facility inaugurated at today's event, where production started up in February of this year, the site now employs approximately 250 employees and 100 contractors.
"This is a historic moment for our young company, and we're thrilled to increase our production capacity of Opteon™ to help meet our customers' needs today and in the future," said Mark Vergnano, Chemours President and CEO. "We are committed to bringing game-changing, sustainable solutions to the marketplace, including Opteon™, and we're proud to manufacture this industry-leading refrigerant right here in the United States, allowing us to create new jobs in our local community."
In recent years, the European Union, United States, and Japan have rolled out stricter environmental standards for mobile air conditioning, commercial refrigeration and residential and commercial air conditioning. As a result of these new regulations and changing consumer preferences, demand in the marketplace has increased for high performance, more environmentally sustainable refrigerants and blends. Opteon™ refrigerants have zero ozone depletion potential (ODP) and very low GWP.
The refrigerants manufactured by Chemours near Corpus Christi will be delivered to a rapidly growing base of customers around the world. Several global companies have recently selected Opteon™ products for residential and commercial air conditioning applications, including Carrier for their ducted residential and light commercial packaged air conditioning products in North America, Carrier Transicold Europe, Mitsubishi Electric Hydronics and IT Cooling Systems SpA (MEHITS), Johnson Controls, and E-Mart, Korea's largest hypermarket chain.
In the mobile air conditioning market, the number of cars using HFO-1234yf is expected to grow to 145 million by the end of 2020. Chemours estimates that, by the end of 2020, the use of HFO technology like Opteon™ YF in place of legacy refrigerants will result in the reduction of 113 million tons of carbon dioxide emissions, which is the equivalent of taking about 24 million cars off the road for one year.
By the year 2025, Chemours estimates that its low-GWP product line will eliminate an estimated 325 million tons of carbon dioxide equivalent on a global basis.
Earlier this month, in recognition of the improved environmental profile of Opteon™ compared to legacy refrigerants, Chemours was presented with the American Chemistry Council's Sustainability Leadership Award for the development of Opteon™.
"At Chemours, we're proud to pursue business opportunities where our company can succeed while our products contribute to making the world a more sustainable place," said Paul Kirsch, President of Fluoroproducts at Chemours. "Increasing our production capacity of Opteon™ is about doing well by doing good – we are committed to delivering sustainable solutions to our customers, allowing them to adapt to changing government regulations and consumer preferences."
About Chemours
The Chemours Company (NYSE: CC) is a global leader in titanium technologies, fluoroproducts, and chemical solutions, providing its customers with solutions in a wide range of industries with market-defining products, application expertise and chemistry-based innovations. Chemours ingredients are found in plastics and coatings, refrigeration and air conditioning, mining, and general industrial manufacturing. Our flagship products include prominent brands such as Teflon™, Ti-Pure™, Krytox™, Viton™, Opteon™, Freon™ and Nafion™. Chemours published its first corporate responsibility commitment report in 2018, which highlights goals aligned with the United Nations Sustainable Development Goals. The company has approximately 7,000 employees and 28 manufacturing sites serving approximately 3,700 customers in over 120 countries. Chemours is headquartered in Wilmington, Delaware and is listed on the NYSE under the symbol CC.
For more information, we invite you to visit chemours.com or follow us on Twitter @Chemours or LinkedIn.