All-In-One Tool for Inspecting, Diagnosing, and Maintaining HVAC/R Systems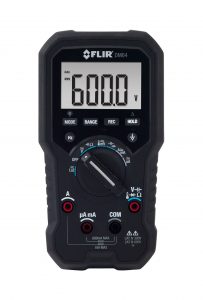 WILSONVILLE, Ore. – FLIR Systems (NASDAQ: FLIR) announced the release of its new DM64 HVAC True Root Mean Square (TRMS) Digital Multimeter with Temperature. Designed for professionals who install, inspect, and maintain HVAC/R systems, the DM64 helps you diagnose complex electrical systems, test flame sensors, and measure temperatures—all with one, affordable tool.
The feature-rich DM64 has the user-friendly design and durability HVAC professionals need, making it ideal for field use. It offers both non-contact and probe voltage detection, accurately measures high- and low-voltage, and measures temperatures up to 752 degrees Fahrenheit (400 degrees Celsius) with the included Type-K thermocouple. This multimeter has several measurement modes, including LoZ (low impedance), Relative Zero, and Variable-Frequency Drive (low-pass filter).
A significant advantage of the FLIR DM64 is it's easy to learn, so new users can get right to work. The meter has an intuitive interface, with an on-screen menu that's simple to navigate. The ergonomic design, display backlight, and flashing indicators help you work longer, even in noisy or dark conditions. Plus, this drop-tested meter holds an IP40 ingress protection rating and safety ratings to CAT IV-300 V and CAT-III-600 V, for safe, continued use in rugged environments.
For more information visit www.flir.com