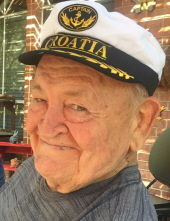 Frank Edward Wilson III died peacefully surrounded by loved ones on Friday, June 29 in The Woodlands, TX. He was born on July 30, 1938 in Jersey City, New Jersey to Frank and Genevieve Wilson. In 1963, he married Judith Harriett Hooven. Frank is survived by his wife Judith, by his son, Frank E. Wilson IV and his wife Amy, daughter Colleen O'Connell and her husband Dan, daughter Karen Wilson and grandchildren, Alexandria Zupa, Christopher Wilson, Jack Wilson, Cailin O'Connell and Quinn O'Connell.
Funeral services will be held at 11 am on Saturday, July 14 at Sts. Simon and Jude Church, 26777 Glen Loch Dr., The Woodlands, TX 77381. Reception will follow immediately in the parish hall.
In lieu of flowers, memorial donations may be made to Interfaith of the Woodlands (http://woodlandsinterfaith.org) or the charity of your choice.