HARDI Distributors Report 15.0 Percent Revenue Increase in August
COLUMBUS, Ohio– Heating, Air-conditioning & Refrigeration Distributors International (HARDI) released its monthly TRENDS report, showing average sales for HARDI distributor members increased by 15.0 percent in August 2018.
The average annualized growth for the 12 months through August 2018 is 9.0 percent.
"Mid-teens growth is always encouraging, especially during the seasonally significant summer months," said HARDI Market Research & Benchmarking Analyst Brian Loftus. "The gain was exaggerated by the weak prior year. The Northeast experienced more than twice as many cooling degree days than last August. Cooling degree days were up by 70% in the Great Lakes and Central regions, and almost that much in the Mid-Atlantic region."
"HARDI distributor sales were more encouraging than the recent retail sales report," said Loftus. Monthly auto sales have declined for three consecutive months and national existing home sales have declined for 4 consecutive months. Existing home sales in the Northeast and Midwest have been down for 9 consecutive months.
Days Sales Outstanding (DSO), a measure of how quickly customers pay their bills, spiked up with the strong sales this past spring. The action was temporary, and the DSO returned to normal in June and July. We have another spike higher this month after back-to-back monthly sales gains.
HARDI members do not receive financial compensation in exchange for their monthly sales data and can discontinue their participation without prior notice or penalty. Participation is voluntary, and the depth of market coverage varies from region to region. An independent entity collects and compiles the data that can include products not directly associated with the HVACR industry.
Congressman Scott Peters to be Featured in Upcoming HARDI Documentary for Workforce Recruitment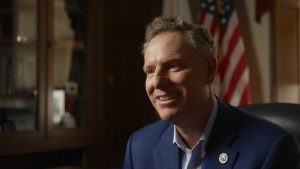 COLUMBUS, Ohio – Heating, Air-conditioning & Refrigeration Distributors International (HARDI) has announced Congressman Scott Peters, D-Calif., as having a feature in HARDI's upcoming workforce recruitment documentary.
Peters co-sponsored H.R. 2353, the bipartisan Strengthening Careers and Technical Education for the 21st Century Act, which was signed into law by President Trump on July 31, 2018.
"What I've seen is that there are a lot of high-paying jobs that do take training, but they don't require a college degree and they pay enough for people to live off of, raise a family, and have a retirement," Peters states in his filmed interview. "We want to make sure people are trained for that."
The documentary is part of HARDI's Workforce Recruitment Initiative, which aims to bring awareness of careers in the HVACR industry and wholesale distribution to younger generations.
"If we want our kids to have the same chance that we did and compete in an economy that's different, we have to be more open minded about what skills we give them. And that's why this is really a flexible and responsive way to train young people. Let's give them the skills that matches our economy today," Peters continues.
HARDI Supply Chain Excellence Conference Wraps-up in Chicago
COLUMBUS, Ohio – Heating, Air-conditioning & Refrigeration Distributors International (HARDI) hosted its Supply Chain Excellence conference in Chicago, Ill. earlier this week. This event covered subject matter for individuals with job roles related to operations, supply chain management and purchasing.
The unique aspect of this year's edition of Supply Chain Excellence was the inclusion of three facility tours of non-HVACR industry wholesale distributors located in the Chicago area. These distributors were grocery wholesaler Testa Produce, construction materials wholesaler Parksite and electrical solutions wholesaler ConneXion.
"The tours were an incredibly insightful opportunity to see distribution best practices at distributors from other industries," said HARDI Director of Operations Mike Coughlin. "I got to tag along with the Testa Produce tour group, and it was amazing to see some close similarities – but also vast differences – in the way HARDI members operate as wholesale distributors compared to other industries."
The event speakers gave presentations on a range of warehousing and logistics subjects, such as the American Trucking Association's Bill Sullivan's session on the state of the trucking industry and economist Andrea Duguay's presentation on effective business forecasting.
For more information, contact Anthony Lagunzad at alagunzad@hardinet.org.