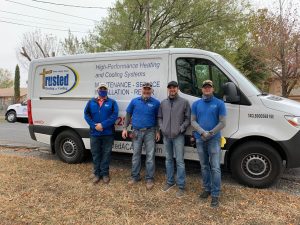 TACCA GREATER AUSTIN PROVIDES THE GIFT OF WARMTH
Every winter residents in the area go through the winter and cold temperatures without adequate heat and many with units that need repairs or parts that they cannot afford. In an unprecedented year when so many are spending their days indoor, Texas Air Conditioning Contractors Association of Greater Austin has partnered with area suppliers to host Heat the Town to assist those who need a safe way to stay warm.
On November 9-20, 2020, TACCA GA contractors conducted inspections on furnaces and repaired units to over 25 homes and on November 23, 2020 TACCA GA replaced three full HVAC units at no cost to three local families.  The TACCA GA contractors that participated and donated their time last month include: Fox Services, Stans Heating and Air,McCullough Heating and Air Conditioning, Trusted Heating and Cooling and ABC Home and Commercial.  The partnering suppliers for this project were: Lennox Ind, American Standard, Aces Supply, Ferguson Supply, Daikin Goodman and JB Warranties.
*Note:  One of the families/individuals that received a full replacement unit is a Vietnam War veteran and is currently receiving chemotherapy cancer treatment.  Mr. Ramirez has lived in South Austin for many years and has been without a functional unit since 1985.  He had been surviving the cold temperatures and hot summers with a space heater and a window fan, in which he had recently upgraded to a window a/c unit.