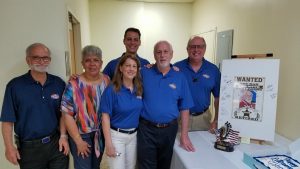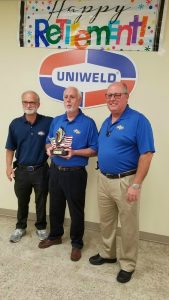 Uniweld Products, Inc. has announced the retirement of John Richardson, Uniweld's Central Regional Manager, after 30 years of employment. On July 27th, Uniweld hosted a retirement celebration at their Uniweld facility in Ft. Lauderdale, FL.
Over his career with Uniweld, John has developed strong personal relationships with colleagues and customers alike, and he will be missed by many in the HVAC and refrigeration industry. John served for 4 years in the US Navy submarine force. After leaving the military he started his career in the HVAC industry as the parts manager for Honeywell. A new opportunity arose and he left Honeywell to be the purchasing manager for an HVAC, electrical, and plumbing contractor. After 8 years in that position with the contractor, John then worked for a rep agency that sold the Uniweld Products line. David Foster, the managing director of the HVAC division for Uniweld, flew into Texas to work with John and see customers in the territory. Shortly after working with John that week, David Foster reached out to John and offered him a position with Uniweld. John joined the Uniweld team in 1987 as the Central Regional Manager and 30 years later he now says goodbye to his Uniweld family.
John had called on thousands of customers and has flown over 2 million miles. John said, "It's a small industry and we are all friends." His biggest memory will be all the friends he has made over the years working for Uniweld.
During the retirement celebration, Dave Foster and David Pearl II spoke to the Uniweld staff about John's work ethic, commitment, and integrity.
John's plans for retirement are to travel and see as much of the world as possible. He will also spend lots of time with his 4 grandchildren and make frequent trips to his lake house in Bonham, TX.
Uniweld Products is headquartered in Fort Lauderdale, Florida. Established in 1949 on Farmland in the Dania Beach area, the company now operates and maintains distribution facilities in Florida, Texas, California, Ontario, and Saskatoon and has sales offices in South America and the Middle East. David Pearl, Sr., founder of Uniweld always maintained the concept of the family-owned business throughout the company's history. Mr. Pearl's sons, David S. Pearl II and Douglas B. Pearl have worked in the business for more than 30 years and are fully familiar with the operations of the company, and today run the company together as President and Executive Vice-President respectively. Today Uniweld's headquarters houses some of the latest state-of-the-art manufacturing equipment. Through engineering improvements and advanced research and development, the company has been able to make its equipment safer for the environment. Uniweld has won the prestigious Broward County Emerald Environmental Award twice and has been Broward County's Environmental Business of the Year. For more information visit www.Uniweld.com.