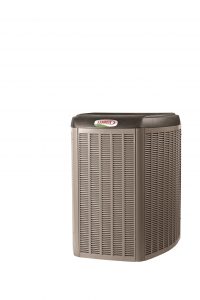 The Lennox XC25 High-Efficiency Air Conditioning System, features an industry-leading cooling efficiency of 26 SEER (Seasonal Energy Efficiency Rating), and is the most precise and efficient air conditioner on the market. This product has been designated as one of the Most Efficient ENERGY STAR certified products in 2017. The XC25 is installed with the iComfort® S30 smart thermostat, which maximizes energy efficiency and will save homeowners hundreds of dollars each year on utility bills.
Key Features and Benefits of the XC25
Precise Comfort® technology allows homeowners to adjust the XC25 output in increments of just one percent, enabling a home to maintain a consistent temperature at all times.
For year-round savings, the XC25 can be combined with SunSource® solar modules, allowing a homeowner to use energy from the sun to reduce cooling bills by up to half.
The XC25 offers the lowest operating noise levels of any air conditioning system available thanks to SilentComfort™ technology, which makes the XC25 twice as quiet as a standard air conditioner.
The XC25 is also able to modify its output based on the area of the country in which a homeowner lives using Climate IQ™ technology. In warmer climates, the XC25 adjusts its airspeed to allow for greater humidity control, while in cooler climates, the system's startup is slower to allow for the air to absorb more heat before circulation.
Centered on the XC25 Air Conditioning System, Lennox has created the Ultimate Comfort System®, the most advanced and efficient heating, air conditioning, and indoor air quality system ever created. Homeowners can now achieve customized comfort and control with a system that redefines precision, consistency, and convenience.
XC21 Multi-Stage Air Conditioner
With efficiencies of up to 21.00 SEER (Seasonal Energy Efficiency Rating) , the XC21 can lower your energy bills by hundreds of dollars a year, while still keeping your home cool and quiet. This product has been designated as one of the Most Efficient ENERGY STAR certified products in 2017.
Key Features and Benefits of XC21
The XC21 uses SilentComfort™ technology to reduce operating noise, making it the quietest multi-stage air conditioner you can buy. Up to 20% quieter than a standard air conditioner.
The XC21 can be combined with solar roof modules in a SunSource® Home Energy System to reduce heating and cooling costs by up to half.
By working with the Humiditrol® whole-home dehumidification system, the XC21 offers exceptional cooling that goes beyond temperature control.
The XC21 works with the iComfort® S30 Ultra smart thermostat to adapt cooling settings to match the families routine.
The XC21's multi-stage scroll compressor allows it to fin
e-tune your cooling, humidity levels and energy use by matching output to demand.
Lennox MLA Cold Climate Mini-Split Heat Pump
The Lennox MLA Cold Climate Mini-Split Heat Pump offers many features and benefits for the consumer.  Lennox's MLA cold climate mini-split heat pump is specifically designed to operate in severe climate conditions by maintaining 100% capacity at 0°F and can operate down to -20°F. No matter how severe the temperature, Lennox ductless heat pumps continue to deliver optimum heating and cooling performance and maximum energy savings. The MLA also offers efficiencies up to 24 SEER (Seasonal Energy Efficiency Ratio) and 11 HSPF (Heating Seasonal Performance Factor) and is available in a broad range of both single and multi-zone sizes.
The MLA unit is compatible with all four Lennox indoor unit styles: high wall, cassette, medium static thin duct and ceiling/floor. Smooth inverter operation creates an environment that's as quiet as it is comfortable. Easy to install, the MLA mini-split heat pump uses a compact indoor and outdoor unit connected through a small hole in your wall. One outdoor unit can support up to five indoor comfort zones to create a customized whole-home heating and cooling solution. Lennox MLA mini-split heat pumps offer an easy, secure installation, especially compared to window units that can leave your home vulnerable to insects, weather elements and theft.