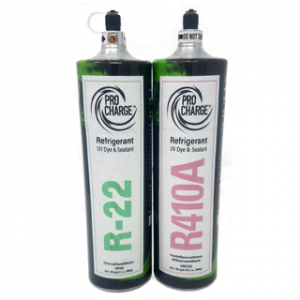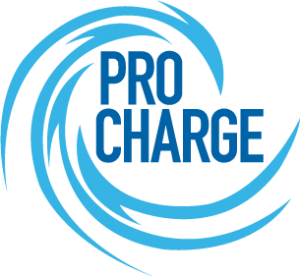 LEBANON, PA – Pro Charge Products is proud to introduce a new, innovative, and cost-effective way to do leak searches and repairs with our small 2-pound cans of refrigerant that are preblended with UV Dye and Sealant. Each can is perfectly sized to service equipment up to 6 tons of cooling and has a ¼" service port on top with a Schrader valve so it can be used on multiple systems.
Our cans can easily fit on shelves in work trucks or tool bags and make leak searches/repairs in difficult to reach places, like drop ceilings in office spaces, easy. Having cans of Pro Charge on your truck or in your shop is also a much more cost-effective solution for leak searches and repairs than purchasing full sized cylinders of refrigerant and the other UV dye and/or sealant products.
We currently have Pro Charge in both R22 and R410A variants but can make our products with almost any commercially available refrigerants on the market today. Our UV Dye and Sealant combo does not react to air or moisture and wont gel up inside of equipment, filter driers, TXV's, or a technician's tools.
Pro Charge is currently saving HVACR contractors and their customers across the country time and money, especially during these times of ever-increasing costs. For more information on Pro Charge go to our website at www.prochargeproducts.com, check us out, and find a distributor near you.
### Include pic