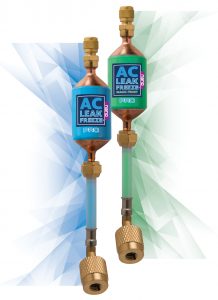 AC Leak Freeze® nano PRO uses revolutionary nano particles that permanently seal nano holes that conventional sealants miss.
Houston–RectorSeal® LLC, a manufacturer of quality HVAC/R products, has introduced AC Leak Freeze® nano PRO, the HVAC industry's first refrigerant leak sealant designed to permanently repair nano as well as micro-sized leaks in residential and commercial refrigeration and air conditioning systems
It uses the same trusted, OEM-approved formula and quick-installing safe applicator as the original industry-leading AC Leak Freeze PRO, but now includes nano particles. These randomly-shaped particles are designed to stop refrigerant leaks from jagged, irregularly-shaped nano-sized holes that are up to 1,000-times smaller than micro holes, therefore difficult to seal with conventional sealants.
AC Leak Freeze nano Pro is the industry's only double action sealant: 1) seals leaks in one to six-ton units with an oil-based, polymer-free, 1.5-ounce (44-ml) formula that doesn't clog system components or refrigeration tools; and 2) uses nano particles to repair holes too small for conventional sealants. Service technicians can add a third action by applying AC Leak Freeze nano PRO with Magic Frost, which includes an anti-friction lubricant additive that reduces noise and vibration, while enhancing system efficiency.
Besides effectiveness, AC Leak Freeze nano PRO is also the HVAC industry's safest sealant for technicians, refrigeration systems and the environment. The non-toxic formula is non-flammable and has a safer flashpoint rating than competitive sealants and its innovative applicator's new low loss connection fitting protects technicians' hands from frost bite and the environment from refrigerant loss. The patent-pending formula doesn't have moisture-activated polymers that can potentially clog compressors, recovery/evacuation units, Schrader valves, capillary tubes, TXV valves, micro channels or manifold gauges.
Like its predecessor, AC Leak Freeze nano Pro also uses an 8.5-inch-long (203-mm) applicator consisting of a flexible, easy-to-handle, transparent nylon refrigeration hose and an attached copper reservoir of sealant. Unlike some other disposable leak sealant applicators, AC Leak Freeze nano Pro doesn't require a system pump down with R-410A systems and safely withstands all typical refrigerant pressures.
One side of the hose connects to the refrigeration system's low side. The AC Leak Freeze nano PRO formula is propelled into the system within seconds once the hose's reservoir is connected to either the high side or a refrigerant cylinder via a charging manifold. The disposable, one-time-use applicator's nylon hose, brass fittings and copper reservoir are all 100-percent recyclable.
Other AC Leak Freeze Pro features are:
hose and reservoir are factory-sealed to prevent injecting air or atmospheric moisture into the system;
the flexible nylon hose's 45-degree connection fitting allows easier hand access than  straight fittings in cramped Schrader valve environments;
transparent hose eliminates guess work as to when application is completed;
comes in four-color boxed packaging designed for distributor J-hook merchandisers or in 12-unit compact POP counter display cases.
For more information on RectorSeal and its HVAC/R, plumbing, firestop and electrical products, please visit www.rectorseal.com