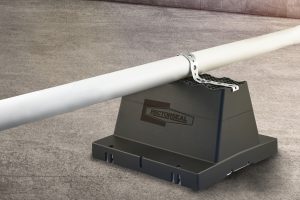 RPS is used to present a neat professional rooftop appearances for HVAC/R, electrical, plumbing and condensate piping, in addition to ducts, walkways and solar.
HOUSTON–RectorSeal® LLC, Houston, a manufacturer and distributor of quality HVAC/R products, has introduced the Rooftop Pipe Support (RPS), a sturdy, easy-to-install system for presenting an organized, aesthetic alternative to wood blocks and other unprofessional jerry-rigged methods. The RPS is designed for mounting HVAC/R, electrical, plumbing and condensate piping, or ductwork, walkway grates and solar panels on commercial flat rooftops without roof penetration.
The RPS is a .15-inch-thick (3.8-mm) ultraviolet light-stabilized, weather-resistant copolymer shell with a high density foam core that provides insulation, vibration isolation and roof membrane protection. The 7.5 (W) x 8 (L) x 5-inch (H) (19 x 20 x 12-cm) RPS weighs only .78-lb (354-grams), but can withstand load capacities of up to 250-lbs or 350-lbs each when used with universal strut channel. The RPS is the industry's only rooftop support system that has five numbered slots to keep two-inch and smaller pipe aligned and organized during installation, although it can accommodate larger pipe diameters.
The top of the RPS's 7.5 x 2-inch (19 x 5-cm) shell accommodates multiple pipes and its surface-gripping slots prevent pipe roll and movement during installation. Additional pipe runs can be supported above the shell top via a universal strut channel elevated by 1/2-inch (12-mm) threaded rod. Each RPS has dedicated holes leading to a molded hexagonal receiver for friction-fitting 5/8-inch and 3/4-inch (19-mm) nuts that eliminate the need for a hold-back wrench when fastening threaded rods or bolts.
Each RPS unit includes a 3/4-inch (W) x 9-inch (L) (2 x 22-cm) galvanized perforated strap that secures up to one two-inch-diameter pipe. Multiple pipe runs are limited to only roof space, because each RPS can be interlocked laterally with the shell's molded tabs that easily snap into a neighboring RPS' receiver tab.
Other RPS features are:
• Gives any flat roof piping installation a professional appearance;
• Sold in contractor packs of 10;
• Compatible with most industry roof support and fastening accessories;
• Top includes starter hole guides for conventional self-tapping screws to secure the perforated strap;
• Universal strut channel and custom-cut threaded rod can easily provide a pitch required for condensate drain pipe;
• Supports mounting framework for either hot water and photovoltaic solar panels or walkway grates;
• Can be used in spacing increments for metal pipe in accordance with ASTM-A53-86, and 2 to 7-foot (60 to 213-cm) increments for PVC;
• Five-year warranty.
For more information on the RPS or RectorSeal and its HVAC/R, plumbing, firestop and electrical products, please visit www.rectorseal.com or contact its customer and technical support departments at 800-231-3345.