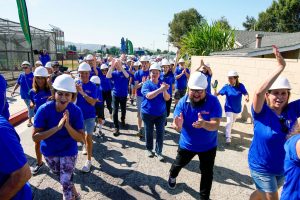 Popular Series Returns to Help Deserving Families Rebuild
ATLANTA – Rheem will partner with HGTV's Extreme Makeover: Home Edition as the air and water heating product provider for the upcoming 2020 season. The series will premiere February 16 at 9:00 p.m. EST and spotlight local heroes who give back to their communities despite personal challenges. HGTV produced the series (formerly on ABC) and will air 10 episodes, each with a custom home renovation for a deserving family.
Each renovation incorporates design, technology and customization to create an environment that offers positive and life-changing impact for the homeowner and their families. Designers, builders, plumbers and volunteers worked around-the-clock to complete construction of each home within four days. ABC's "Modern Family" star Jesse Tyler Ferguson hosts the series. Home design experts and celebrity guests, including former "Extreme Makeover: Home Edition" host Ty Pennington, will appear throughout the season.
"Extreme Makeover: Home Edition is a beloved show that helps families rebuild and thrive," said John Fitzgerald, Executive Vice President of Operations for Rheem. "We want to honor these families and provide innovative HVAC and water heater products to fit their individual needs, keep costs down and minimize their carbon footprint."
The 2020 season will spotlight smart home advancements, sustainability and responsive design. Rheem's line of connected HVAC and water heaters are among the most efficient on the market and provide advanced protection, savings and convenience. With a single app on their phone or through their new EcoNet® Smart Thermostat, each family will be able to control settings, view product alerts and maintenance reminders, and monitor energy and water usage to manage consumption.
About Rheem
Founded in 1925, Rheem® innovates all-new ways to deliver just the right temperature while saving energy, water and supporting a more sustainable future. Today, Rheem is America's #1 water-heating brand, and its products are available in more than 50 countries. Paloma Co., Ltd.® of Nagoya, Japan, acquired the iconic Rheem brand in 1988, and today the company's portfolio of premium brands include Rheem®, Raypak®, Ruud®, Eemax®, Richmond®, Splendid®, Solahart® and EverHot™ as well as commercial refrigeration brands Russell®, Witt®, ColdZone® and Kramer®, which are part of the Heat Transfer Products Group (HTPG®) division.
About Extreme Makeover: Home Edition on HGTV
HGTV's spin on the iconic home renovation series Extreme Makeover: Home Edition will showcase great stories, inspired volunteers and mind-blowing home renovations for families who give back to their communities. The whole-home overhauls will include interior, exterior and landscaping – all completed in record time while the family is sent away. The 10 new episodes of Extreme Makeover: Home Edition will air on HGTV in 2020 and also will be available on demand across all platforms and on HGTV GO. Fans can follow HGTV on Facebook and Twitter and follow Extreme Makeover: Home Edition on Facebook and Twitter for the latest news and updates. Online users can join the conversation using #HGTVEXTREME.
About HGTV
HGTV delivers the superstar experts, fascinating families, compelling renovations and stunning transformations that make all things home fun. America's favorite way to get entertaining, relatable and inspirational home and lifestyle content, HGTV offers: a top 10 cable network that is distributed to more than 88 million U.S. households; a website, HGTV.com, that attracts an average of 10.8 million people each month; a social footprint of 20.6 million; HGTV Magazine, a monthly publication that reaches more than one million readers and exclusive collections of home-oriented products through the HGTV HOME™ consumer products line. Viewers can become fans of HGTV and interact with other home improvement enthusiasts through Facebook, Twitter, Pinterest and Instagram. HGTV is owned by Discovery, Inc., a global leader in real life entertainment spanning 220 countries and territories, whose portfolio also includes Discovery Channel, Food Network, TLC, Investigation Discovery, and OWN: Oprah Winfrey Network.