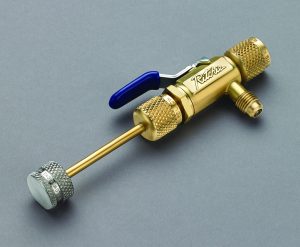 The RealTorque™ Core Removal Tool is Essential for Effectively Removing and Replacing HVAC/R System Schrader Cores.
BLOOMINGTON, MN – Ritchie Engineering Company, Inc., the leader in service tools for HVAC/R professionals and manufacturer of YELLOW JACKET® products, is proud to introduce their new RealTorque™ Core Removal Tools.
Removal of system Schrader cores can greatly increase the speed of recovery and evacuation. Once charging is complete, it is important that the system Schrader cores be properly tightened to prevent leaks. The RealTorque™ Core Removal Tool by YELLOW JACKET® has an integrated torque mechanism that clicks as soon as the Schrader core has been tightened to the manufacturer recommended torque value of 3-5 in-lb. This provides assurance that the Schrader core is properly tightened on every job and minimizes the chances of leaks from this area of the system. For more information, please visit https://yellowjacket.com/product/realtorque-core-removal-tools/.
About YELLOW JACKET®
The YELLOW JACKET® brand name is synonymous with the highest quality and most complete line of HVAC/R tools in the industry. The brand's roots go back to 1946 when Ritchie Engineering Company, Inc., a manufacturers' representative organization, became a hose manufacturer. With an emphasis on quality and service, Ritchie Engineering, based in Bloomington, Minnesota, trademarked the hose as the YELLOW JACKET® Charging Hose in 1950. Since then, the company has been engineering, manufacturing, and continuously improving the YELLOW JACKET® hose while adding new products to its portfolio. Today, YELLOW JACKET® products are sold worldwide through a network of authorized HVAC&R and automotive wholesalers. For more information, please call (952) 943-1300 or visit our website at www.yellowjacket.com.