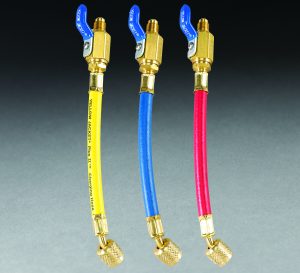 Servicing mini-splits made easier with less connections.
BLOOMINGTON, MN – Ritchie Engineering Company, Inc., the leader in service tools for HVAC&R professionals and manufacturer of YELLOW JACKET® products, is proud to introduce the FLEX FLOW™ HOSES 1/4″ to 5/16″.
By effectively combining the popular Flex Flow hose with a 1/4" to 5/16" coupler, our newest Flex Flow hoses make the servicing of mini-splits easier. With less connections, the risk for leaks is lowered, too. Available in Yellow, Blue or Red, they carry all the characteristics of the highest quality hose in the industry. These are a great addition to our Flex Flow product line.
The ¼" to 5/16" Flex Flow hoses are 9" long with a 1/4" connector on one end and
a 5/16" connection on the other. Each hose includes a ball valve at one end for
ultimate control of refrigerant flow.