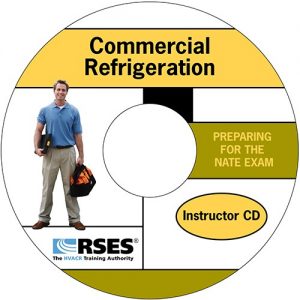 Rolling Meadows, Ill. – RSES has released its Preparing for the Nate Exam: Commercial Refrigeration Instructor CD and a new Service Application Manual Chapter.
Commercial Refrigeration is the sixth title in the Preparing for the NATE Exam Instructor CD series. The series of CDs is designed to help RSES Chapters and HVACR instructors prepare students for the North American Technician Excellence Commercial Refrigeration exam.
The Preparing for the NATE Exam: Commercial Refrigeration Instructor CD utilizes Microsoft PowerPoint software and allows educators to conduct anywhere from two- to eight-hour review sessions. The CD contains a complete overview of all materials covered in the Preparing for the NATE Exam: Commercial Refrigeration study book.
The CD, which features more than 1,500 slides, as well as answers to all review questions, is an excellent tool for instructors who have extensive knowledge in the field and who seek an outline as part of a program for preparing students to take the NATE Commercial Refrigeration Exam. Topics covered on the Preparing for the NATE Exam: Commercial Refrigeration Instructor CD include: electrical fundamentals; refrigeration fundamentals; refrigeration equipment; refrigeration components; electrical components; regulations, code, and design; installation; service and maintenance; large commercial refrigeration systems; and more.
To order the NATE Exam: Core Essentials Instructor CD, please contact RSES by calling 800-297-5660 or visit Commercial Refrigeration Instructor CD.
RSES has also released a new SAM Chapter 650-018, Section 6B, "Relays, Contactors, and Starters," written by John Lattuca, CMS, Tecumseh Products Company LLC. SAM is the oldest HVACR reference manual available in the industry. It contains thousands of pages of technical data, equipment analyses and evaluations, field application instruction, regulations, good practice codes, business development guidance and more. SAM is a great resource to obtain knowledge in 25 categories and 45 subcategories of HVACR-related topics.
Members can access all of the SAM Chapters, including this new one, online as an RSES Member benefit. Visit www.rses.org and select "My RSES Home Page" after logging in; then select "Service Application Manuals (SAM)" on the left-hand side of the page. SAM can be purchased as well by visiting SAM on CD at our online store.