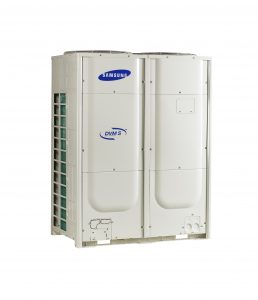 ROANOKE, Texas – Optimize comfort with solutions designed for superior efficiency and manageability. Variable refrigerant flow (VRF) systems are a smart solution for commercial and large residential buildings that demand higher efficiency, individualized control, and installation flexibility.
Samsung's VRF systems are also known as DVM (Digital Variable Multi) S systems. The DVM S product lineup consists of: heat pump, heat recovery, water, and chiller systems. DVM S systems range from 6 tons to 20 tons. Each DVM S system is equipped with an inverter scroll compressor and flash or vapor injection technology.  These systems are often space saving and provide high energy efficiency to help achieve better performance, reducing installation and maintenance costs.
Samsung's DVM Chiller combines the strength of both variable refrigerant flow (VRF) and traditional chiller systems. DVM Chiller empowers reduced annual utility costs compared to conventional systems, while the operational modes can be adjusted to allow for seasonal requirements. This space saving system is energy efficient, and beneficial as it can inherit existing water facilities. Flash injection technology supports the powerful heating performance that the DVM Chiller system can provide. As a convenience and preventative measure, DVM Chiller comes equipped with built-in differential pressure and temperature sensors to prevent freezing and pipe bursts.
Samsung's DVM S Water system is unique to other DVM S models as it uses water as its method of heat exchange. This system can use geothermal energy as a renewable heat source to support environmental and cost reduction initiatives. Geothermal systems utilize the earth's consistent temperatures to heat and cool homes and businesses. Using a highly efficient compressor and an advanced plate heat exchanger, DVM S Water systems provide effective and reliable performance despite changes in the surrounding environment. Single phase and three phase DVM S Water systems are available in 6 ton, 8 ton, 10 ton, and 20 ton capacities.
Samsung offers various control options to support DVM S VRF systems. Controls range from individual unit controls and central management systems, to advanced building management system integration. Control options are available to command 1 to 4,096 indoor units from a single work station.  In addition, Samsung's DVM Mobile application was launched to support system designers, technicians, and others in the HVAC industry with Samsung DVM S systems. DVM Mobile is available in Google Play and the iTunes Store.