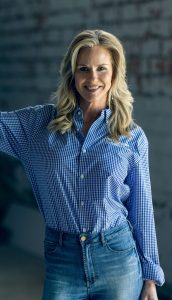 Alison is one of few female leaders in the male-dominated HVAC and plumbing industry
San Antonio, TX – San Antonio's oldest HVAC and plumbing company, Shafer Services Plus, is welcoming new president, Alison Lange. For the past two years, Alison has served as Shafer's marketing leader and more recently as their interim residential HVAC manager.
Alison Lange's new role as president of Shafer Services Plus places her among the very few women to hold leadership positions in the male-dominated home services industry. She replaces former president, Chase Anderson, who will be transitioning to a full-time role with Shafer's parent company, Pro Plus Service Group.
"From day one, Alison has always gone above and beyond her job through her service level and ability to lead by example," said former president of Shafer Services Plus, Chase Anderson. "As I began to make preparations for transitioning fulltime to our parent description company, Pro Plus Service Group; I knew there was no better leader than Alison to chart course for the next era of one of San Antonio's oldest companies. I have seen her consistently do the right thing for our team members and our customers. She's the type of person people want to work with and one that we're all better for knowing."
Raised in West Texas, Alison brings with her a legacy of hard work and service. She waited tables 10 hours a day to put herself through college, graduating Magna Cum Laude from Angelo State University with a bachelor of arts in Communications and an English minor—all within three years. She spent the next 25 years becoming a marketing leader in San Antonio where she has served education, tourism, culinary, literacy, health, technology, home services, government, non-profit, and corporate sectors.
Her leadership helped Shafer achieve its top two performing years in the company's 135-plus-year history. Additionally, Alison oversaw rebranding and launched Shafer Serves, a philanthropic program that has donated more than $55,000 in equipment and services to local non-profits and community members such as Boys and Girls Clubs of San Antonio, SA Youth, Guide Dogs of Texas, military veterans, and The San Antonio Food Bank.
"I am honored to lead a San Antonio legacy organization into its next generation," said Alison Lange, president of Shafer Services Plus. "Skilled trades are vital to the success of our community and Shafer has a long history of cultivating some of the best tradespeople in our area. Their commitment to service inspires me daily to do the absolute best job I can for them and the people we serve. My favorite Shafer core value is to treat people like family—for me, it's what everything else is built upon and why Shafer will continue to be a leader in plumbing and HVAC for generations to come."