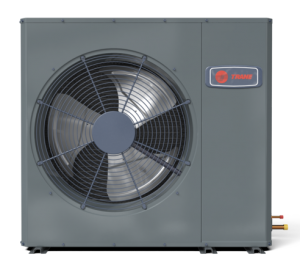 The new heat pump makes it easier to install systems in residential applications where access or space is limited
Davidson, N.C. – Trane®, a leading global provider of indoor comfort solutions and services, and a brand of Ingersoll Rand, is now offering the XR16 Low Profile Heat Pump, a side discharge single-stage heat pump designed for split ducted heating and cooling systems.
The XR16 Low Profile Heat Pump is designed for split ducted applications where space constraints make vertical discharge units difficult to install. This includes zero lot-line installations, in which the lot line comes up to or close to the property line, and other situations with limited space, such as multi-family housing, row homes and condominiums, rooftops, or under decks. The XR16 Low Profile Heat Pump is available in 1.5 to 5-tons, and is suitable for any residential building.
The system features a seasonal energy efficiency rating (SEER) of up to 17 and heating seasonal performance factor (HSPF) of up to 10, which is currently the heating, ventilating and air-conditioning (HVAC) industry's most efficient single-stage ducted side discharge heat pump. Each unit is built with a Climatuff™ compressor, tube and fin coil with refrigeration grade copper tubes and enhanced aluminum fin surface to maximize heat transfer, and an integrated fan system with leading edge swept blade design to improve airflow, enhance performance and reduce sound levels. Sound levels for the unit range from 69 to 74 dBA.
The XR16 Low Profile unit also features a 10-year registered limited warranty with a five-year warranty on the compressor, heat exchanger, coil and parts.