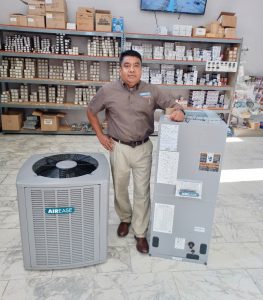 Stafford, Texas –Transtar A/C Supply, Inc. is proud to announce and welcome Isidoro ("Izzy") Ramos as the company's Territory Manager. Mr. Ramos will be responsible for providing valuable experience and leadership to the Transtar sales team, managing Transtar's dealer programs, growing new and existing contractor relationships, and driving revenue. In addition, Mr. Ramos will be a valuable contributor in the areas of marketing and overall business strategy.
Mr. Ramos comes to Transtar with an enormous amount of industry experience and is a well-known figure in the Houston HVAC distributor market. Mr. Ramos has a proven track record of creating and facilitating long term business relationships with both contractors and industry luminaries alike. Mr. Ramos's contractor focused attitude and positive personality are assets that well complement his vast industry experience.
"I am blessed to have been given the opportunity to join the close-knit Transtar A/C Supply family, and am excited to lend my years of broad experience in the greater Houston wholesale HVAC market! The family-owned, team environment, and contractor centered focus of Transtar is a great fit for me. I can't wait to put my years of industry experience to work and expertly serve an ever-increasing audience of contractors and dealers as they do their jobs with Transtar's industry-leading parts, supplies, as well as our Allied Commercial, AirEase, and Concord equipment lines." – Isidoro Ramos, Territory Manager, Transtar A/C Supply
"I am thrilled to have Mr. Ramos join our growing team as our Territory Manager. As Transtar continues to grow, I am confident that Mr. Ramos's drive, experience, expertise, and professionalism are exactly what Transtar needs in order to not only grow as a company, but also better serve our contractors (both old and new) all across the Houston area."  – Bryan Abraham, CEO & General Counsel, Transtar A/C Supply
For over 30 years, Transtar A/C Supply, Inc. has successfully become one of the leading wholesale distributors and exporters of air conditioning, heating and refrigeration equipment and parts in Texas. Transtar was started in a small single location in 1984. Since then, Transtar has grown to 7 convenient Houston area locations with over 160,000 square feet of warehouse facilities while stocking over $4 million in inventory. Transtar is committed to earning customer loyalty by offering the highest level of customer service along with the best air conditioning, heating and refrigeration equipment, parts and supplies available. Transtar believes in building relationships with our customers and stands behind its motto of "we have the parts and equipment to do the job!".
For more information about Transtar A/C Supply, please call 281-499-3377 or visit the company's web site at www.transtaracsupply.com.