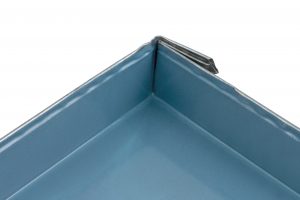 ASTM E84 Flame and Smoke Tested Water & Chemical Resistant Coating
Designed For: Drain Pans | Cooling Towers | Air Handlers | Condenser Pans
Tank & Floor Coating | Metal | Concrete | Fiberglass | Wood | Plastic
Pan-Grip and Pan-Grip Flex are multicomponent Novolac based epoxy products that are ideal for residential, commercial and industrial applications. They are designed to seal and repair corroded and leaking drain pans and repair corroded surfaces in all HVAC systems. The products can be used on horizontal and vertical surfaces. The coating is impervious to water, non-rusting, chemical resistant, and can be applied directly to a properly cleaned and prepared surface without a primer. Pan-Grip can be applied and will cure under water. Pan-Grip Flex is designed for high traffic areas and for applications where vibration and movement will be of concern. Both products are Flame and Smoke compliant for use in the airstream.
Pan Grip
The Pan-Grip product is supplied as a kit with a gallon and a quart of resin and hardener respectively. When mixing – pour the hardener (quart container) into the resin (gallon container). Make sure to empty the entire contents of the hardener. For smaller jobs Pan-Grip also comes in a convenient cartridge with a mixing nozzle and an easy-mix burst bag. ASTM E84 Testing 0 Flame / 5 Smoke.
Pan-Grip Flex
Pan-Grip Flex, intended for larger commercial and industrial applications, is delivered in a 2-gallon kit (one gallon each of resin and hardener) and comes with a 6-gallon empty bucket for easy mixing and pouring. ASTM E84 Testing 0 Flame / 35 Smoke.
Easy Application
• Once mixed you have approximately 30 minutes of working life to apply the product (valid at 75 degrees Fahrenheit –please reference the Technical Data Sheet for further information on working and ambient temperature).
• Simply pour into the pan and use a chip brush or roller to cover the horizontal surface.
• The Pan-Grip products can be applied on horizontal and vertical surfaces. You can use the brush or roller to move the Pan-Grip up the vertical sides of the pan.
• The Pan-Grip products will self-level to give a smooth final surface.
• For cleaner edges you may use tape or similar methods to mask off areas where you do not want the product to adhere. Just make sure to remove your cap or plug on the drain and any additional taping or masking done prior to the product curing.
USA: 900 Hensley Lane, Wylie, TX 75098 • (877) 495-4822
Canada: 205 Brunswick Boulevard, Suite 300, Pointe-Claire, QC H9R 1A5 • (800) 544-5535
www.hardcast.com