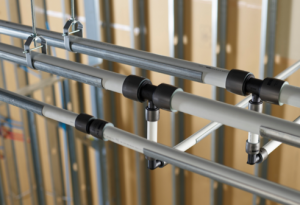 REHAU will showcase at AHR 2018 the availability of its EVERLOC+ compression-sleeve fitting system in a wider range of sizes – now going up to 2-inch diameter – to address plumbing and hydronic piping requirements in the commercial and multi-family sectors.
The REHAU PEXa plumbing system includes RAUPEX® crosslinked polyethylene (PEXa) pipe and EVERLOC+ polymer and lead-free brass fittings featuring four sealing edges and a textured PEXa compression sleeve for a tight, secure grip. Connections are easily made using a consistent, two-step expansion/compression process, after which they are immediately ready for pressure testing.
Adding to the ease and efficiency of installation are the high levels of flexibility, strength and durability offered by RAUPEX pipe. These qualities make RAUPEX easier to work with than more rigid materials such as copper and CPVC; and because fewer connections are required, additional savings are realized with regard to time, labor and material. Specifically, the REHAU PEXa system installs up to 50% faster than copper press, and up to 65% faster than copper sweat systems.
For additional information on EVERLOC+ and REHAU's complete line of mechanical solutions, visit AHR Expo booth 3127 or their website at http://na.rehau.com/mp.