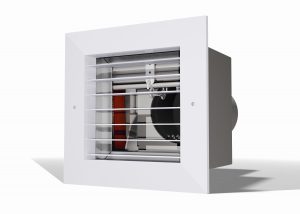 Only ABD with UL555 1 1/2-hour static-rated fire damper
Grandview, MO  – Ruskin® introduces a new series of pressure-independent automatic balancing dampers (ABDs). The ABD-FD automatic balancing damper and curtain fire damper assembly is the only unit in the industry that combines an ABD with a UL555 1 ½-hour static-rated fire damper to meet building code requirements.
The Ruskin ABD-FD automatically regulates damper positioning for precise and automatic airflow in supply applications. It also protects rated barriers, while providing constant balanced airflow. The result is energy-saving performance that mitigates stack effect in high-rise buildings and improves comfort for building occupants, making it ideal for commercial and hospitality settings, such as offices and hotels.
The damper works across the full pressure range in supply applications. With a sleeve assembly that fastens to the wall and requires no retaining angles, the ABD-FD is easy to install. Contractors and facility managers will also appreciate access through the damper grille and the unit's tool-free CFM adjustment, with up to 20 set point positions. A Ruskiprene™ "T" seal ensures long-lasting durability.
The ABD-FD also features a unique-to-the-industry antimicrobial agent that mitigates the growth of mold and bacteria and contributes to improved indoor air quality. In addition, the damper is UL 2043-listed with a UL94V-0 flame and smoke spread rating.
The ABD-FD is the fourth product in the Ruskin ABD series, which includes the ABD, ABD-SEA and
ABD-SEA-E. Like all products in the Ruskin offering, the ABD-FD is covered under the Ruskin five-year limited warranty program. The program – recently extended from one year to five years from the date of delivery – demonstrates the company's commitment to quality and makes it easier for engineers to specify Ruskin products.
To learn more about the Ruskin ABD-FD damper, visit http://www.ruskin.com/model/abd-fd